Blue Waters and Plaiters Way disability-friendly countryside site, near Houghton Regis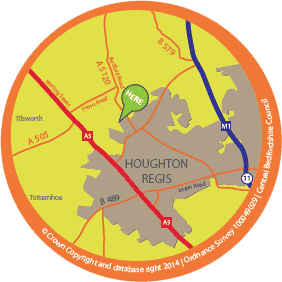 These 2 adjacent sites are situated on the north west of Houghton Regis.
Blue Waters was once a landfill site, now landscaped and planted.
The paths around Plaiters Way are surfaced and there are several natural play areas.
Path information
Most of the paths are surfaced and suitable for wheelchairs and pushchairs. The map shows types of paths, slopes, etc. to help you decide which route is suitable for you.
Visitor information
parking available on Plaiters Way, or other roads around Houghton Regis

no toilets on-site; the nearest public toilets are in Bedford Square, Houghton Regis town centre

large variety of cafés, pubs and bakeries in Houghton Regis
Blue Waters and Plaiters Way are owned and managed by us, so if you need more information or need to report a problem, call us on 0300 300 8305
Map of Blue Waters and Plaiters Way countryside site
Download map of Blue Waters and Plaiters Way (PDF 157.1KB)