Baulk Wood disability-friendly countryside site, near Henlow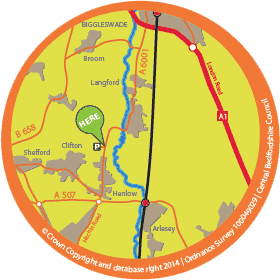 Baulk Wood is a small mixed woodland with a large area of meadow. This fully restored landfill site is now a beautiful place to visit. The habitats have matured and it is hard to believe what it once was! There is a car park and several walks. Benches and natural play features are dotted around the site, as well as a wonderful wildlife sculpture trail. It is a great place for all the family.
Path information
There is a hard stone path around the woodland.
This is generally flat but does have loose stones in places. There are firm grassy paths around the meadow which, when dry, are suitable for wheelchairs and pushchairs. The map below shows types of paths / slopes to help you decide a suitable route.
Visitor information
a great place to look for wildlife
car park is free (there is an accessible parking space)
no toilets on site (nearest public toilet is in Biggleswade)
dogs welcome, but must be kept under control
there's a tea room at Langford Garden Centre and pubs in Henlow and Langford which serve food
Baulk Wood is owned and managed by us, so if you need more information or need to report a problem, call us on 0300 300 8305
Map of Baulk Wood countryside site
Download map of Baulk Wood (PDF 208.3KB)