Biggleswade Riverside Path disability-friendly countryside site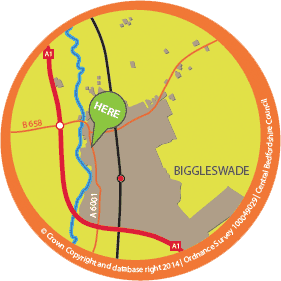 This 900m path follows the River Ivel from Franklins Recreation Ground to Hill Lane. There are lovely views of the river as the path takes you through Back Meadows, part of Biggleswade Common. Look out for kingfishers and terns fishing in the river.
This is part of the Kingfisher Way long distance walk. A circular walk can be made by following the road back through town.
Path information
The path is tarmac along most of the walk. There are 3 kissing gates along the route. These are accessible for pushchairs, wheelchairs and mobility scooters. There are several benches along the path. Cattle graze on Back Meadows in the summer months.
Visitor information
parking available off St. Andrew's Street, Biggleswade town centre, or at the Dan Albone car park (off Shortmead Street)

public toilets in Biggleswade town centre

many pubs, cafés and bakeries in Biggleswade town centre

café and toilets in Sainsbury's store (Hill Lane)

fishing controlled by Ivel Protection Association

(link opens in new window)



Riverside Path is owned and managed by us, so if you need more information or need to report a problem, call us on 0300 300 8305
Map of Biggleswade Riverside Path countryside site
Download map of Biggleswade Riverside Path (PDF 413.1KB)