Stockgrove entrance: Rushmere Country Park disability-friendly countryside site, near Heath and Reach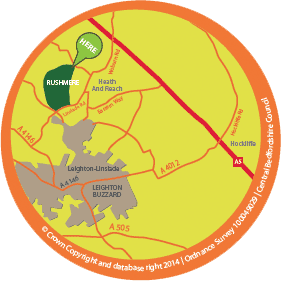 Stockgrove is part of Rushmere Country Park. The historic Stockgrove Estate has a history dating back to medieval times.
The park has a variety of habitats and scenery including a lake, woodland and heath. The access for all path takes you around the beautiful Stockgrove lake.
Path information
There is a surfaced path leading down the valley from the visitor centre to the lake. There are no gates or stiles. The map shows types of path, slopes etc, to help you decide which route is suitable for you.
Visitor information
parking is available at the Stockgrove entrance on Brickhill Road, Heath and Reach
designated disabled parking bays
charge for parking

refreshments in visitor centre

toilets in visitor centre

Rushmere Country Park is owned and managed by us and the Greensand Trust, so if you need more information or need to report a problem, call 01525 237 760

Map of Stockgrove entrance: Rushmere Country Park countryside site
Download map of Stockgrove entrance: Rushmere Country Park (PDF 1.6MB)