Updated plans in response to the feedback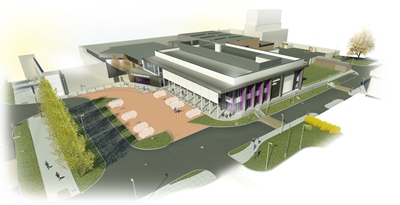 Proposals taken forward
As there was strong support for the proposed leisure centre improvements and the inclusion of other services, we took the following proposals forward
The gym
A new 100+ station health and fitness suite with state-of-the-art gym equipment (expanded from the current gym which has 60 stations). The new gym will be a large, modern, bright and exciting space
Space for group exercise
The gym will have three new group exercise spaces.
Swimming pools
pool halls will look like a newly built space. They will be completely redesigned
existing pool tanks will remain because they are in good condition but will be completely retiled with new water drainage, circulation and filtration
pool surrounds and pool hall walls will be retiled and the existing windows replaced
we will remove the triangulated pool area at shallow end of the pool
a new pool hall roof will be installed and the lighting and ventilation improved
pool viewing for spectators will also be refurbished and improved, with new seating and a view into the learner pool from the first floor
New changing areas
we will increase the changing space capacity from 60 to 100
wet side changing space will be completely new and modern with lockers and cubicles
the floors and walls will be tiled for durability and ease of cleaning
we will use colours to help make the space feel bright and welcoming
there will be views into the adjoining pool halls to help orientate visitors and to make the spaces feel more open and secure
we will include two entirely new facilities accommodating 18 children close to the pool
the gym and the sports hall will also have new changing facilities adjacent to them
Sports hall
The appearance of the sports hall will be significantly improved. The floor will be completely refurbished and new lighting installed
Disabled access
all of the new facilities will be fully accessible; this includes improving access to the pools
there will be two lifts, one of which will be larger than normal
a full changing places provision will be provided in the centre together with up to four dedicated accessible changing rooms and accessible standard toilets
disabled parking and a drop-off area will be provided at the front of the building
New library
the library will be a large, bright and airy open-plan space, incorporating state-of-the-art equipment.
the space will flow seamlessly with the main foyer and will be zoned for different activities
it will have public access computers
there will also be open spaces and greater capacity for activities, events and clubs
we are looking at how we can extend our offer by using better technology to provide an out-of-hours service beyond the core library hours
the new library will be on the ground floor at the front of the new building close to the toilets and café
Citizens Advice
We fund Citizens Advice. It currently operates in a building which does not provide an opportunity for the service to expand. It also has limited disabled access.
Moving into the new building will offer a service that has suitable disabled access, private booths for personal conversations and has the opportunity to significantly extend its opening hours.
Another important connection is its link with the library. Citizens Advice refers many of its customers to the current library and by having these services under one roof it will improve both services.
Adult day care and provision for disabled sports
The leisure centre hosts DADDS (Dunstable and District Disabled Sports) once a week and its members benefit from the use of all the facilities. This works well and we can see how adults referred for day care could benefit from being based in the new facility.
Therefore, we are proposing to provide dedicated facilities for adult day care that will improve the disabled facilities for all users.
Children's facilities and crèche
The existing learner pool will be retained. In addition, a crèche will be provided in the new centre, as will meeting rooms and numerous flexible activity spaces which can cater for dedicated children's activities. The library will also have a dedicated children's zone.
New café
We will include a brand new, modern, vibrant café for all customers to use.
Artificial sports pitch
The outdoor pitch was underused and not included in our proposals. The consultation response did not show any strong objection to this proposal so we continued with this plan. In conjunction with Sport England, we will be looking at other sites where this facility could be provided.
Suggestions that we won't take forward
Although we will be meeting the majority of the swimming club's suggestions to improve the pool there are some requests that we didn't take forward.
The pool at Dunstable will not provide sufficient depth for sub-aqua and other activities; however, this can be accommodated at our Tiddenfoot Leisure Centre in Leighton Buzzard.
The request to remove the stepped entry into the learner pool was not be taken forward. We feel that it is better to keep this to provide easy access for all, particularly young children and disabled users.
The request to have a variable base pools was not taken forward. This means we would need to dig out the pool tank which was not included in our plans or costs. Plus there is no clear evidence that this is needed to help with capacity.
The request to make the pool compliant with competition licensing requirements was not taken forward. Dunstable pool is a pool for the local community not a competition pool. We already have two competition standard pools in Central Bedfordshire (Biggleswade and Leighton Buzzard) plus, there is an Olympic-sized pool nearby in Luton.
Bowls
Short mat bowls will be available within the sports hall at the new Dunstable Centre.