The Manuka Tree bistro restaurant and bar at Priory View - all open to the public
Our bistro restaurant at Priory View is open to both residents and the public; we would love for you to join us. Alongside our traditional menus we offer theme nights, such as French Night, Brazilian Night and Thai Night – a great opportunity to try new flavours and have fun!
Opening hours
Bistro restaurant and bar
Monday to Thursday: 9am until 5pm (last orders 4:30pm)
Friday: 9am until 11pm (last orders 11pm)
Saturday: 9am until 5pm (last orders 4:30pm)
Sunday: 10am until 4pm
Food and drinks can be ordered up to 30 minutes before closing time.
Food served
Monday to Saturday: 9am until 4pm
Sunday: 10am until 4pm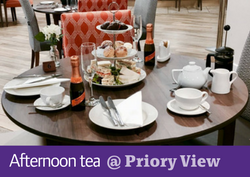 Afternoon tea
£10 – 2 rounds of sandwiches (choice available) cake, scone with jam and cream, hot beverage of your choice.
£12 – all of the above with additional speciality cream cake.
All bookings and enquiries can be made via telephone on 01582 297584 or email at cprioryview@atalianworld.com.
Contact us
Telephone: 0300 300 5904