Living in Priory View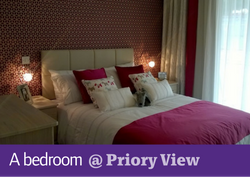 Priory View is home to 83 apartments for residents aged 55+, both renting and shared ownership. The ethos of the building is to provide residents with the right balance of privacy and support, to live and be independent, and part of a bigger plan to make sure within Central Bedfordshire we have the right sort of housing available for older residents, most of whom want to live in their own homes for as long as possible.
Priory View is more than alternative accommodation that an older person has to 'accept' because their home is no longer suitable for them. It is a place to celebrate life! The facilities are fantastic but the building was designed to build a sense of community and for people to make new friends and be able to support each other.
Having flexible care services provided by our on-site care provider Care is Central gives residents and their families the peace of mind that their new homes will afford them the right balance of privacy and independence, with the support they need. There is a real focus on social activity with lots of shared space for both residents and the community. Priory View offers the best of all worlds – a safe and secure home, a community of like-minded people, social life on your doorstep and support and care when you need it.
Apply for accommodation at Priory View
We have received a lot of interest from people who are interested in living at Priory View. Due to its popularity, all the apartments are currently allocated. However, if you would like to be considered for a resale or re-let you may find the information below helpful before making your application:
if you are successful in receiving a written offer you will be required to sell an existing home(s)
the eligibility criteria will be checked before you would receive an offer
you will be subject to a credit check
you will need to speak with an independent financial adviser
if you are successful in your application you will be placed on a waiting list until we have a vacancy
you may receive a call from the care team who will visit you to do a home inspection to check your current care needs
whilst you wait to hear from us whether you are successful or not you are welcome to visit Priory View and use the café or join in with the activities etc.
Find out how to apply for accommodation at Priory View.
Important information about living here
If you have a question that we haven't answered here, please get in touch:
Telephone: 0300 300 5904
Email: prioryview@centralbedfordshire.gov.uk
Will there be stamp duty?
Yes. Stamp duty will be payable on the share which you buy (at the rate applicable).
Can I sell my apartment to my family if I decide to move out?
No. The property will need to be sold to someone who meets the eligibility criteria on the councils waiting list.
If Central Bedfordshire Council buys my apartment back, at what price do they buy it?
It will be purchased at the Current Market Value which is defined in the lease.
Will I have to pay Council Tax?
Yes. You will pay the Council Tax to the council.
What is the minimum share that I can buy?
The minimum share that you can purchase is 25%.
Why can't I buy more than 75%?
The scheme is designed to ensure that there is always affordable independent living available in Dunstable.
Can I apply for a mortgage to help me to buy the property?
You should be able to do this. For further information you will need to seek advice from an Independent Financial Advisor who will be able to advise you about your ability to secure a mortgage.
Can my children buy my apartment for me?
No.
Can I still claim housing benefit?
You may need to check with the Housing Benefit team to see if you are eligible to claim.
What does the service charge cover?
Costs associated with maintaining the communal areas including fire alarms, emergency lighting, communal cleaning, gardening and building insurance.
Will costs be reviewed?
Yes, the costs will be reviewed annually and information will be sent to the residents in advance of any changes.
Are meals included in the service charge?
No. There will be a restaurant on site (meals will be on a pay as you go basis) that will be available for residents and open to the general public.
How old do I have to be to move into Priory View?
The minimum age is 55.
Will there be disabled access?
Yes the scheme has been designed with this is mind. All areas should be accessible for those with a disability.
Can I bring my pet?
Yes, subject to the residents full understanding of the pet policy and adhering to it.
Can my family and friends stay over?
Yes, should you need a bit more room, there will be a guest suite (pre bookable for a small charge).
Will I have my own parking space?
There will be no allocated parking, as the car park will be for the use of all residents and their visitors.
Will the scheme be wheelchair friendly?
Yes, it will be designed for ease of access
Do the apartments have a bath?
No, they will have a shower. However, three floors will have a separate bathroom with an assisted bath for you to use.
Do the apartments have a patio or balcony?
Apartments will have access to either a balcony or a patio.
If you have any queries or need any help applying, please contact our housing solutions team on 0300 300 8302.
How can I find out more about the care services provided at Priory View?
We work in partnership with Care is Central to provide high quality, flexible on-site care services to the residents of Priory View. Care is Central is registered and regulated by the Care Quality Commission to ensure national quality standards are continually met. You can visit Care is Central or call on 01234 385640 to talk through any care requirements or queries you may have.