Leighton-Linslade's Market Town Regeneration Fund initiatives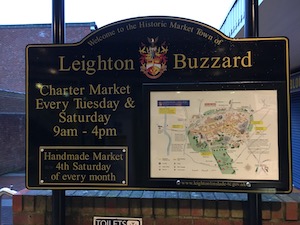 Variable electronic signage
Electronic signage can reach all people to provide up-to-the-minute local information about things like the town centre offer, attractions, promotions and travel advice.
Variable signs would be placed to catch the attention of people, at the train station, main roads into the town / by-pass (especially where large scale housing is being placed) and the town centre itself, encouraging people to enter the town centre, increase engagement with visitors and increase footfall.
Relaunch of the market
The town council wants to ensure the current market is able to attract new customers and add to the town's list of attractions for visitors after 74 per cent of respondents to a 2014 survey of residents stated that the market makes a positive contribution to the town's character.
A relaunch could change the layout, branding and advertising, improve pitch allocation to increase spaces, improve the electricity supply and invest in new stalls able to service traders in all weathers, specifically to avoid the loss of income through market closures.
Training programme for market traders
In keeping with physical change, the town council wants to support traders to upskill and improve product presentation and attractiveness to customers, as well as embrace new digital payment methods and advertising via social media. Training will be incorporated into the market relaunch.
Architectural lighting scheme
The town council seeks to celebrate the uniqueness of the High Street's historical architecture to establish local distinctiveness and enhance the visitor experience by creating a visually stimulating town centre. The scheme will use the full length of the High Street to encourage footfall movement to the benefit of all businesses, with the aim of extending visitor economy into the evenings and nights.
Background
Leighton Buzzard's market place dates back as far as 1086, and its history is still evident in its protected buildings and interesting alleyways and mews. Many of the High Street buildings are in receipt of conservation orders, in particular the ancient Market Cross which is listed as Grade II.
The town centre retailers and businesses serve a growing population. However, the challenge is to encourage more commuters and visitors to enter the town centre, spend their time, money and engage with local businesses. The Market Town Regeneration Fund projects aim to create reasons to for people to visit Leighton-Linslade and encourage more economic activity in the town centre.
To do this, the town council is working with us to build visitor tourism, and encourage shopping and more leisure activities in Leighton-Linslade.