Lifeline alarm - emergency alarm service 24 hours a day
Lifeline is a an emergency alarm service, providing assistance at the touch of a button 24 hours a day, 7 days a week.
You could get an alarm if you live in the following areas:
Dunstable
Leighton Buzzard and Linslade
Houghton Regis
Barton-le-Clay
some villages surrounding these areas (call 0300 300 8146 to find out if your village is covered)
How much does the Lifeline emergency alarm service cost?
There is an installation cost and then a weekly cost.
View or download our housing fees for details (PDF)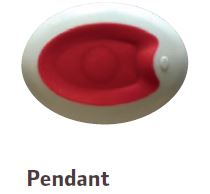 What you get for your money
a wearable alarm button (can be worn as a pendant, or on your wrist)
a box that plugs in to your phone line
24-hour monitoring
24-hour backup response: our officer will be called if your key holders aren't available, but you'll need a key safe outside your house (not included)
How does the Lifeline emergency alarm service work?
Lifeline alarms operates over the telephone network and is easy to install.
A small button is worn when you are at home – as a pendant or on the wrist so that in the case of an emergency the alarm button can be pressed to call for help.
This automatically alerts the Lifeline control centre where staff can speak to you even if you are unable to reach the phone, as the system can use the alarm unit as a loudspeaker.
When the call is received, Lifeline staff will see your details on the computer screen, together with names and addresses of doctors, relatives, etc.
Once the control centre has established the problem, the appropriate help can be requested.
This could be a neighbour, friend, relative, one of our officers or emergency services.
All calls are recorded for monitoring purposes and are confidential.
Who is Lifeline emergency alarm service for?
Lifeline is designed for anyone who feels vulnerable or at risk fro any reason, whatever their age.
Some groups of people who could benefit from the service include:
vulnerable people living in their own homes or rented accommodation
people being discharged from hospital
people receiving community services, including occupational therapy, community nursing and support from a social worker
people receiving rehabilitation support
people with sensory or physical impairment
those at risk from intruders/harassment
people in receipt of care services may also wish to consider having
a community alarm
anyone who simply desires peace of mind
Installing Lifeline
The Lifeline unit can be installed quickly and easily. All you need is a modern telephone socket and a nearby electrical socket.
Is there anything I need to do to qualify for Lifeline emergency alarm service?
The only thing we ask is that users of the service either have a key safe installed outside the property or that they identify 1-2 key holders who are willing to assist if they need help.