Conditions and limitations for a dropped kerb
A property must meet the following in order for the construction of a dropped kerb to be permitted.
Size of the crossing
The crossing will be constructed to dimensions that are suitable for vehicles to access the property.
Existing parking
Please ensure you notify us of any existing parking arrangements for your property. This must include parking which is either attached to your home or indeed near to your property in a block or any form of parking provision. This will be taken in to account as part of your application and failure to disclose this at application stage may result in loss of any monies paid or the potential to have the facility removed at your cost if at a later date it is found that you have existing parking.
Parking within your property
Your application will not be approved unless you are able to provide a suitable parking area within your property, this must be at least 5 metres long, measured from the front of your house to the boundary of your property and 2.5 metres wide.
There must be enough space around this area for pedestrian access. If the width of your property is more than 8 metres, these conditions may not apply.
Corners and junctions
There must be at least 10 metres between the entrance to a junction or sharp corner and the location of the proposed vehicular access. (See figure 1.)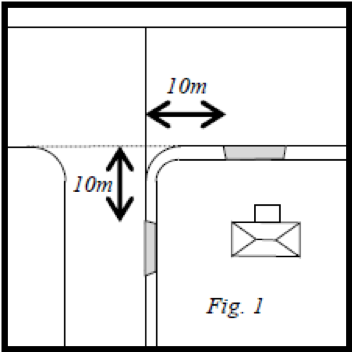 No part of a vehicle parked within your property may overhang the pavement or road. The dropped kerb may not be used as a parking area and no part of it is exempted for the purpose of pavement parking.
Hardstandings
If you do not own the property you will need to check with the property owner and seek their permission to install a hardstanding and apply for a dropped kerb.
If you're one of our housing tenants, please contact our estates management team estate.management@centralbedfordshire.gov.uk, providing drawings and what materials you plan to use. A qualified builder must carry out the work and you must check if planning permission is required. A copy of your letter of approval will be needed when submitting your dropped kerb application.
Specific rules apply for householders wanting to pave over their front gardens.
If the area of hardstanding proposed would exceed five square metres, it either needs be to made from porous materials or provision needs to be made to direct run-off water from the hard surface. The run-off water needs to go to a permeable or porous area in the border of the hardstanding or the immediate garden of the house. Otherwise planning permission will be required.
Please ensure you have read the paving your front garden guidance on Planning Portal (link opens in new window).
Drainage
The parking area within your property must be built so that water does not drain from it across the footway, suitable drainage must be provided within the boundaries of your property.
Street furniture
Where applicants have removed more of the wall or fence running along the boundary, than is required by the size of the crossing, it should be understood that an item of street furniture i.e. lamp-post, telegraph pole, traffic sign etc. may be erected at any time in the pavement outside the area of a crossing, even though this may obstruct an area where there is no wall or similar feature.
Obstacles to construction
If the proposed location of the access is obstructed by a road sign, lamp-post or tree etc., the position (of the access) should be altered to avoid the obstacle. If this is not feasible, we'll need to make a decision as to whether the item should/can be removed or re-located.
The cost of all work (by us or a third party), to complete the dropped kerb, is the responsibility of the applicant.
Alterations to your dropped kerb
We may need to alter the layout of your vehicle crossing at any time, due to modifications to the pavement or verge. Every effort will be made to maintain access to your property and the occupier of the affected property will be given adequate notice of such works.
Safety
Any application for the construction of a dropped kerb may be refused or modified on the grounds of safety. The applicant must ensure that adequate sight lines are maintained to allow safe access to their property.
Gates across vehicle entrance
Gates fitted across the vehicle entrance to your property must not outwards across the pavement or road.
The following circumstances will cause your request for construction of a vehicular access to be denied:
pre-existing access: If there is already a vehicular access to the property then a second one may not be constructed
parking: If the proposed access would exit into pre-existing public parking, such as a lay-by or pull in, then its construction would not be permitted
traffic calming: If there are traffic calming measures e.g. speed humps in the carriageway in front of or adjacent to the proposed access then it would not be permitted
trees: If there is a tree (or trees) in front of your property such that any constructed access would be closer than 1m to the trunk (this is increased to the width of the tree's canopy if there is an access on the other side of the tree in question)
What happens next?
Proceed to the applicant's checklist to ensure you are ready to complete your application.
Downloadable guidance
You can also view or download our dropped kerb guidance (PDF).