Become a Reading Hack in Central Bedfordshire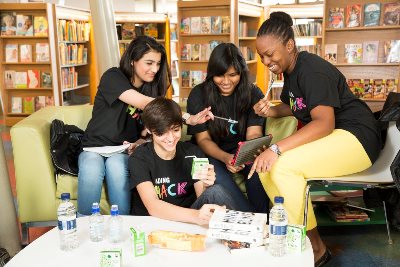 "A hack is an activity with reading at its heart"
Reading Hack is a national volunteering programme led by young people who volunteer in reading activities and gain skills and experience.
How to get involved
There will be many activities for you to take part in.
Opportunities may include helping out at library events or supporting staff to run activities at the library; and every year we have a Summer Reading Challenge!
How to volunteer at this year's Summer Reading Challenge
Why not volunteer to help inspire children to read during the Summer Reading Challenge? Just pop into your local library, speak to the manager and get an application form.
What else is going on?
Throughout the year, we will be contacting everyone in the Reading Hack volunteer pool to tell them about any up coming opportunities. If you're in the pool, all you need to do is let us know if you are interested in an available opportunity and we will be in touch to get you started!
Email volunteering@centralbedfordshire.gov.uk to find out more and apply.
By signing up to our Reading Hack volunteer pool, you will also always be the first to know about new and exciting opportunities to get involved with your local library.
Being part of this group means that you will have the chance to:
help in your community
gain experience and learn new skills – looks great on your CV
make friends
have your say about what you'd like to see in your local library
Volunteer with us and meet new people, build new skills and inspire others to read!