Woodside Link road - route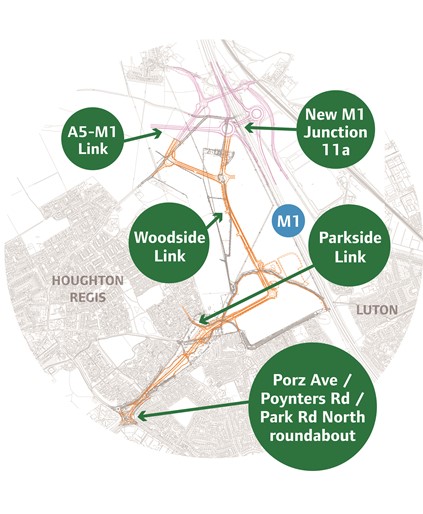 The new road runs to the north and east of Houghton Regis.
The 2.9km road is a wide single carriageway, consisting of two 5m lanes, 1m hard strips and a footway / cycleway. Verges will be a minimum of 2.5m wide. The new road connects into Highways England's roundabout, that forms part of the M1 Junction 11a. Links from the northern roundabout of the Woodside Link to the M1 Junction 11a and to Sundon Road are dual-carriageway.
At the south-western end, the new road connects into the existing road network at Poynters Road / Park Road North / Porz Avenue by a new improved four-arm roundabout to replace the existing junction. We will ensure full access to these roads at all times. As a result, direct access to Wheatfield Road will be removed from the roundabout and a new T-junction will be provided 250m to the north-east linking Wheatfield Road to the new Woodside Link road. The total length of the route will be about 3.3km, which includes 0.5km for the link to Sundon Road.
The height of embankments and depth of cuttings have been kept to a minimum, but as the area will be developed in the future, the level of the road relative to final ground level may be different. The speed limit of the Woodside link road will generally be 40mph, with the exception of the link to the M1 Junction 11a, which will be 70mph.
The short link from Parkside Drive commences from the end of the existing cul-de-sac, where the footpath/cycle route to Pastures Way starts. This links to the Woodside Link at a T-junction.
Much of the road needs to be lit because of the number of junctions and pedestrian crossings. The lighting uses the latest technology to minimize light overspill. Crossing points will be provided where the road crosses existing public rights of way or other pedestrian/cycle routes; this will include signal controlled Toucan crossings.