High Sheriff of Bedfordshire - Meryl Dolling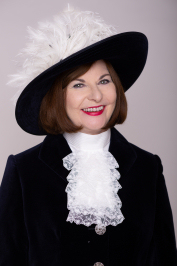 To have been nominated as High Sheriff for 2019-2020 is a tremendous honour and I hope that I will have the opportunity to give something back to the county that I love so much. I feel particularly privileged to be the first woman from Luton to serve the county in this role and proud to be only the ninth woman High Sheriff of Bedfordshire in over a thousand years.
As a child, I lived and studied in Dunstable until I went to the University of Lancaster. I graduated with a BA (Hons) before moving on to study at King's College, London for a Post Graduate Certificate in Education. I then began my long career in teaching, working first of all in a range of secondary schools and later having completed an M Ed. at Nottingham University, I went on to teach in Adult and Further Education.
I moved to Luton to work at Luton Community Relations Council as the Officer responsible for education, employment and training. This deepened my knowledge of and commitment to the "super diverse" linguistic and cultural communities in Luton. During this period, I worked closely with an educational organisation called Special Adult Learning Programmes, which I later joined and became Head of the Northern service based in Bedford offering classes for the "disadvantaged" particularly English for Speakers of Other Languages and Basic Skills. I then accepted a similar role as County Co-ordinator for adult basic education for the county of Essex for three years before returning to Special Adult Learning Programmes as County Co-ordinator for Bedfordshire running classes in community venues throughout the county. I specialised in networking and partnerships and was privileged to welcome the Queen to my base at the Westbourne Centre in Bedford to open the new nursery funded through a joint bid with the Queen's Park Partnership. As the funding from the County Council was reduced, I was responsible for transferring all staff and provision to Barnfield College of Further Education. I became Director of the Rotheram Avenue Campus and then the Technology Campus of Barnfield College in Luton while continuing to run the Basic Skills Service across Bedfordshire.
In 2003 my husband, Michael, became Mayor of Luton and as Mayoress I spent a hectic but wonderfully rewarding year attending functions and events showcasing the amazing work of hundreds of voluntary and statutory organisations in Luton and beyond.
Since my retirement in 2012 I have continued to involve myself in the community as a governor of two schools, a Trustee of Bedford and Luton Community Foundation as well as a member of The Inner Wheel of Luton North. I was also elected as a Councillor for Stopsley Ward at the last local elections and served on Luton Borough Council until I stood down in January this year.
Given my background, it is not surprising that in my Shrieval year I will support the judiciary, police and emergency services to help bring communities together as well as emphasising the role that education can play in beating crime. I am really looking forward to the year and want to meet as many charities and organisations as possible to highlight their contribution and impact on the community.