We're committed to the fair treatment of employees, potential employees or users of our services, regardless of age, disability, sex, gender reassignment, pregnancy, maternity, race (which includes colour, nationality and ethnic or national origins), sexual orientation, religion or belief, or because someone is married or in a civil partnership.
We have developed a Single Equality and Diversity Scheme which demonstrates our commitment to putting equality and diversity at the heart of all that we do. Read about our Single Equality and Diversity Scheme to learn more.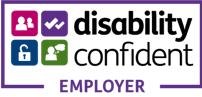 Disability Confident
We're proud to be a Disability Confident employer, and offer the following options to anyone who considers themselves to have a disability:
alternative application methods if the online application is not suitable
Guaranteed interview scheme for applicants who meet the minimum/essential criteria for the role
alternative interview arrangements for those with access needs
any other reasonable adjustments to support you with your recruitment journey
Accessing our main offices
Chicksands
View access information for Priory House, Chicksands.
Dunstable
View access information for Watling House, Dunstable.
Armed forces veterans
We are proud to support the Armed Forces Covenant and as such will guarantee you an interview if you meet the essential criterial for the role and you are serving, ex-armed forces personnel, or an immediate family member.
Ex-offenders
We are committed to safeguarding the welfare of those accessing our services and we have a duty of care towards vulnerable members of society under the Safeguarding Vulnerable Groups Act (2006), the Rehabilitation of Offenders Act 1974 (Exceptions) Order 1975 (ROA) and those prescribed in the Police Act 1997 (Criminal Records).
We will assess an applicants' suitability for positions which are included in the Rehabilitation of Offenders Act 1974 (Exceptions) Order 1975 using criminal record checks processed through our online provider using the Disclosure and Barring Service (DBS). We undertake to treat all applicants for positions fairly and not discriminate unfairly against any subject of a disclosure on the basis of a conviction or other information revealed. Having a criminal record will not necessarily bar you from working with us. This will depend on the nature of the position and the circumstances and background of the offences. Further information is available in our DBS Policy.
Find out more about DBS checks for applicants on GOV.UK (link opens in new window).