Former High Sheriff of Bedfordshire - Julian Polhill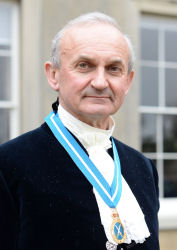 The High Sheriff of Bedfordshire for 2018-19 was Julian Polhill. Julian and his family live and farm near Bedford.
In his earlier career he worked as a journalist and then in communications in the City of London.
In Bedfordshire Julian has been involved in a range of countryside and conservation organisations.
The High Sheriff is the Queen's representative in Bedfordshire for all matters relating to the judiciary and law and order. A key aim of Julian's year was to support charity and voluntary organisations that aim to reduce potential offending, assist those in prison and help ex-prisoners start new lives.