Accessibility and Web Content Accessibility Guidelines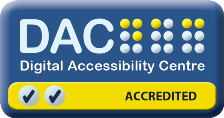 This site conforms to level AA of the World Wide Web Consortium's (W3C) Web Content Accessibility Guidelines 2.0 (WCAG 2.0) (link opens in new window).
These guidelines are the internationally recognised benchmark for building accessible web sites.
Digital Accessibility Centre (DAC) (link opens in new window) tested this site for AA compliance.
Known issues
Screen reader users are unable to navigate the sub menu items on the home page when sequentially navigating (using gestures) through content. Therefore a user should utilise 'Explore by touch' on both iOS and android in order to select sub menu items, or select the top level heading such as 'Planning' in order to access these sub menu items.
Exclusions to AA compliance
External applications and websites: we link to third party applications and external websites, which we hope are useful for customers to carry out a task or find out further / related information on a subject. We cannot guarantee that they are AA compliant. We are not responsible for the accuracy of material on linked websites, and do not endorse the views expressed within them.
PDF and other MS Office documents: documents on our website may not currently be accessible. We are working to improve them.
Screen readers and other assistive technology: this website has been tested using the latest assistive technology. We cannot guarantee that the site will work fully on older versions of assistive technology.
Browser capability
The site has been cross-platform and cross-browser tested and is currently compatible with modern browsers including Microsoft Internet Explorer 11 and Edge, Mozilla Firefox, Safari, Google Chrome 10+ and Opera 10+.