About the Healthier Options scheme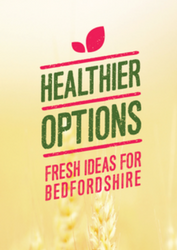 The aim of the programme is to help local small and medium-sized businesses across Bedfordshire to make healthier changes to their menu and food preparation. Participating food outlets will be supported by the Healthier Options team to offer their customers healthier choices.
What to expect when joining
You'll meet with your local food officer to make a Healthier Options pledge.
What's in it for you?
By becoming a member of our Healthier Options scheme in Bedfordshire, we're confident you'll:
attract new customers –as a Healthier Options business, you'll attract more health conscious customers
promote good health – you'll be empowering your existing customers to adopt a more healthy lifestyle
And it's free to join – you've got customers to gain and nothing to lose. We'll support you all the way and it won't cost you a penny. You'll even be given free promotional merchandise for your business.
Are you eligible?
The scheme is open to all businesses with a food hygiene rating of 4 or 5. If you have a lower rating, but would like to be part of the scheme, please email healthieroptions@centralbedfordshire.gov.uk for more information about how to improve your food hygiene rating.
How to join Healthier Options
We look forward to working with you and hope you'll be proud to receive your certificate and window sticker to confirm that you're an official Healthier Options business, and that you're committed to making a real contribution towards healthier lifestyles.
Send an email to healthieroptions@centralbedfordshire.gov.uk and we'll be in touch.
Download the Healthier Options leaflet (PDF 1.2MB)