A421 upgrade: timings and progress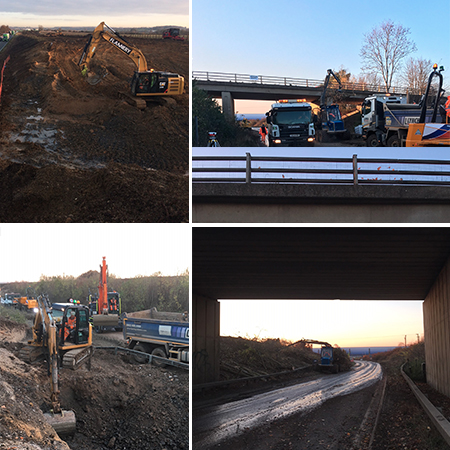 Timings
The initial preparatory roadworks run from September 2018 until February 2019. In March 2019, the major work to lay the dual carriageway will start. The improved A421 road is likely to be ready by the end of 2020.
Speed limits
We are trying to minimise disruption to road users as far as possible during this project. However, our contractors advise that a 40mph speed limit is needed to protect the safety of their workers from the road traffic. We ask businesses and residents to factor that into their journey times and use a suitable alternative route if they can.
There are weight limits zones in surrounding villages, which will be enforced by the police, so lorries should still keep to the main roads for their routes.
At key stages in the construction, we may need to close the road for extra safety. Read information about our next closures and diversion routes.
Progress
Progress from October 2018 to July 2019
Our latest video shows a split screen bird's eye view of the work undertaken on the A421 from October 2018 to July 2019. We'll be issuing updated films as we progress the construction.
Fly-through video – October 2018
We have a fly-through video available which gives a bird's eye view of the work that we're doing to upgrade this stretch of the A421 road into Milton Keynes.
Bridge demolition
The Cranfield Road bridge was demolished at the end of May 2019. We work went well and the road reopened ahead of schedule. The existing Cranfield Road bridge will now be closed for up to 12 months whilst a longer replacement road bridge is constructed that will span the wider A421. We're working with our contractor to shorten this period if possible, so as to reduce the impact on residents in local villages who are affected by the diversion.
On 3 June 2019, Iain Stewart, MP for Milton Keynes South, visited the A421 construction site to take a look at the progress that we've made on this £28.5million project and to meet our project team, the contractors and Milton Keynes Council.