Bedfordshire winners of the Queen's Award for Voluntary Service 2016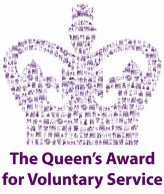 The prestigious Queen's Award for Voluntary Service 2016 has honoured 3 outstanding Bedfordshire volunteering groups.
This unique UK national honour, the highest for groups of volunteers, was created over a decade ago by Her Majesty The Queen to recognise the outstanding contributions that volunteers make to their local communities. It has an equivalent status for voluntary groups as the MBE has for individuals.
The groups were nominated by members of the public who have seen the difference the volunteers have made to the lives of others, or witnessed the benefits of a group's work in their community. Special presentations will be held for each group later this year.
The successful Bedfordshire groups are:
CHUMS (link opens in new window) - Mental Health and Emotional Wellbeing Service for Children and Young People is a unique and special organisation in child bereavement and trauma, including those bereaved by murder, suicide or other sudden death and has strong links with the Police, coroner, schools and GPs. The level of training is very impressive and volunteers are always well supported and have development opportunities. In Bedfordshire people choose to become volunteers for a variety of reasons. For some it offers the chance to get involved with something that is a keen interest or because of a related experience or career, or to join up with like-minded people giving of their time and talents. For others it provides an opportunity to develop new skills or build on existing experience and knowledge. Regardless of the motivation, what unites all volunteers is that they find it both challenging and rewarding.
Nine Red Presents - is an outstanding voluntary community group providing high quality dedicated services to vulnerable individuals from disadvantaged backgrounds in Bedfordshire.
The number of beneficiaries of these services is growing as there are rising numbers of hard to reach people who are unable to voice their needs effectively to the statutory agencies. Their beneficiaries have risen from 1,500 in 2012 to 27,885 in 2016 – evidence of their high quality work, their dedication and reputation in the community. They are trusted by their users particularly those suffering from mental health problems. The group also benefits men and women from diverse ethic and socio-economic backgrounds, individuals and families while promoting peaceful co-existence and community cohesion. The group is volunteer managed and volunteer led and owes a lot of its success to Debra Knight who herself has received many awards and to Gordon Davis. The organisation is supported by the local authority, Police, NHS agencies and a number of other groups in the voluntary sectors which demonstrates Nine Red Presents achievements and sustainability. Nine Red Presents is a unique and special organisation and the volunteers are given clear roles and hold regular meetings to share experiences, support each other and provide opportunities for training.
Sight Concern (link opens in new window) - Sight Concern Bedfordshire provides specialist advice, information and practical support to people living with sight loss in Bedfordshire and Luton. They work with blind and partially sighted people to define their own expectations and take steps towards more active, socially engaged and independent lives. Sight Concern Bedfordshire works hard to achieve and maintain a high level of respect and credibility within the community, with local stakeholders and with service users. The entire approach is based on encouraging and enabling independence, supporting people to achieve what matters to them in every-day life. The impact Sight Concern Bedfordshire has, through the actions of its volunteers, makes a difference to the everyday lives of visually impaired people and is highly valued by its service users and the wider community.