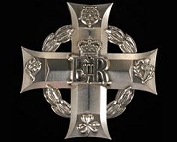 The Elizabeth Cross was created to provide national recognition for the families of Armed Forces personnel who have died on operations, or as a result of an act of terrorism, since the end of the Second World War to the present day. It uniquely recognises the sacrifice shared by the Service Families and provides a tangible sign of our country's gratitude for the burden carried by the families and respect for the sacrifice made by their loved ones.
This Award remembers those service personnel who were serving with the Regular and Reserve Armed Forces or the Royal Fleet Auxiliary when deployed in direct support of a designated operation. These personnel died either:
whilst serving on an operational task
as a result of an act of terrorism
subsequently or prematurely as a result of an injury or illness attributed to their service in the circumstances described
Such is the significance of the Elizabeth Cross that this is the first time the name of a reigning monarch has been given to a new Award since the George Cross was instituted in 1940 by King George VI for acts of bravery by both civilians and the military. Prior to this, the Victoria Cross was introduced by Queen Victoria in 1856 for acts of gallantry by the Armed Forces for valour in the face of the enemy.
HM The Queen in a message to the Armed Forces in July 2009 said:
'This seems to me a right and proper way of showing our enduring debt to those who are killed while actively protecting what is most dear to us all. The solemn dignity which we attach to the names of those who have fallen is deeply engrained in our national character. As a people, we accord this ultimate sacrifice the highest honour and respect."
'I greatly hope that the Elizabeth Cross will give further meaning to the nation's debt of gratitude to the families and loved ones of those who have died in the service of our Country.
"We will remember them all."
Recipients of the Elizabeth Cross in Bedfordshire
Presented 27 January 2011 - held at DISC, Chicksands.
Fusilier Isaac Corbett - Died in Korea on 6 October 1951
Staff Sergeant Christopher Cracknell - Died in Belfast on 15 March 1972
Private Michael Hall - Died in Korea on 17 November 1951
Private Percy Smallshaw - Died in Korea on 3 January 1951
Major Charles Arthur Lothian Watt - Died in Changi on 23 July 1953
Presented 8 December 2009 - held at HQ RAF Police, RAF Henlow.
Cpl David J Shepherd - Died in Iraq on 19 May 2003

The Lord-Lieutenant is now on twitter, follow me @LLieutenantBeds (link opens in new window)