Bedfordshire winners of the Queen's Award for Voluntary Service 2017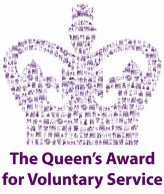 The prestigious Queen's Award for Voluntary Service 2017 has honoured 5 outstanding Bedfordshire volunteering groups.
This unique UK national honour, the highest for groups of volunteers, was created over a decade ago by Her Majesty The Queen to recognise the outstanding contributions that volunteers make to their local communities. It has an equivalent status for voluntary groups as the MBE has for individuals.
The groups were nominated by members of the public who have seen the difference the volunteers have made to the lives of others, or witnessed the benefits of a group's work in their community. Special presentations will be held for each group later this year.
The successful Bedfordshire groups are:
Bangadesh Youth League (link opens in new window) - A charity that provides services for the whole community including pre-school, children's clubs, holiday clubs, youth work and school outreach. Bangladesh Youth League has over 60 volunteers and the inclusive nature of its work reaches out and engages with the whole community, providing support to the most disadvantaged people. Almost 6,000 people benefitted from the work of the Bangladesh Youth League in the last 12 months and these included people with low self-esteem, children and young adults with disabilities, women who were economically inactive and low skilled with English language barriers, and vulnerable older people who are facing isolation and loneliness.
Emmaus Village Carlton (link opens in new window) - a homeless charity that, not only provides a bed for the night to people who have experienced homelessness and social exclusion, but also provides a home for as long as someone needs it as well as meaningful work in its social enterprise. Emmaus has 29 communities across the UK and Bedfordshire's community, based in Carlton, has been successful in contributing to helping people to get their lives back on track when they have previously fallen on "hard times", giving them a feeling of self worth and purpose.
Leighton Buzzard Narrow Gauge Railway Society (link opens in new window) - is a not for profit charitable organisation run solely by a group of 110 volunteers dedicated to the preservation of its historic railway. Leighton Buzzard Narrow Gauge Railway Society has been in operation since 1967 and will celebrate its first half-century this year, along with the centenary of two of its World War 1 locomotives. As a member of the Arts Council Museum, the Industrial & Provident Friendly Society, the Transport Trust, the Heritage Railway Association and the Association of Independent Museums, the railway attracts up to 24,000 visitors per annum, with some 34% being returning visitors. Its volunteer members bring enthusiasm, expertise and experience to run, maintain, develop and provide financial support to the railway, and they are spread throughout Bedfordshire and surrounding counties with some active volunteers being as far as 150 miles away. The volunteers undertake a variety of tasks including repairs, maintenance, running the museum and on-site café, accounting and administration.
NOAH Enterprise (link opens in new window) - is a voluntary organisation that supports rough sleepers, homeless people and people suffering from severe deprivation. The provision of serving food, working in the organisation's clothes store, befriending and an Academy which delivers training programmes are amongst the ways in which people are assisted in finding their way back into independence. Employing around 300 volunteers, NOAH Enterprise has helped around 700 people accessing the service generally in the last year, and with over 250 people benefitting from the soup kitchen.
Youthscape (link opens in new window) - has been operating since 1993 under the leadership of the Chief Executive, Chris Curtis, who has been with the organisation since its inception. Employing around 90 volunteers, Youthscape is a Christian-based youth organisation which helps around 22,000 young people in Luton and Dunstable having close links to 13 High Schools. Proud of its town centre based "Hub", this provides a haven for young people with socially and emotionally disturbed backgrounds to overcome barriers in their lives such as bullying, self-harm, stress, relationships and cultural differences. Its motto "Born in Luton, delivered everywhere" signifies the impact it is now having nationally. Youthscape were proud to welcome TRH The Duke and Duchess of Cambridge to officially open their new premises in August 2016.
HM Lord-Lieutenant of Bedfordshire, Helen Nellis said "I am thrilled that so many of our excellent voluntary groups have been recognised by the Queen in this way. Bedfordshire is very proud of the County's voluntary sector; each organisation has reached out to various groups within our community and helped to improve lives. My sincere congratulations to all the winners; I look forward to presenting them with their awards later in the summer"