Bedfordshire Winners of the Queen's Award for Voluntary Service 2018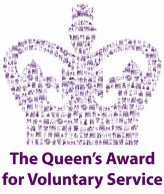 Buckingham Palace has today announced The Queen's Award for Voluntary Service winners for 2018 and HM Lord-Lieutenant of Bedfordshire, Helen Nellis, is delighted that four voluntary organisations in Bedfordshire have been recognised. The Queen's Award for Voluntary Service is the highest award given to local volunteer groups across the UK to recognise outstanding work done in their own communities. It was created in 2002 to celebrate the anniversary of the Queen's Coronation. It is the MBE for volunteer groups. The following Bedfordshire organisations have been successful:
Bedfordshire District Cerebral Palsy Society (BDCPS) provide specialist support for those living with cerebral palsy in Bedford Borough and Central Bedfordshire. BDCPS have been operating for 63 years and they have over 100 volunteers, some of whom are as young as 14 years old. Supporting young people up to age 25 with cerebral palsy and other disabilities, BDCPS work with the whole family to provide advocacy, advice and support where needed. With the support of BDCPS' volunteers, young people with cerebral palsy are able to participate in activities such as rock climbing, sailing, ice skating, theatre productions and festivals.
Friends of Harrold-Odell Country Park (link opens in new window) are a group of people committed to supporting the upkeep of Harrold-Odell Country Park (HOCP). They assist in the maintenance and enhancement of the park, fundraise, support events, regularly take part in active conservation work, engage with the community, support educational services and contribute to the quarterly newsletter which informs visitors about the park and its facilities. Friends of HOCP have been operating for 11 years with no paid staff and rely solely on their volunteers, of which there are around 85.
Mandip Mudhar Memorial Foundation (MMMF) (link opens in new window) have, since 2001, been highlighting the importance of organ donation within the South Asian community through numerous events including an annual charity football tournament which brings communities together and raising funds for other charities. MMMF has no paid staff; its 5 volunteers enlist the help of other volunteers and link them to specific organ donation and fundraising awareness projects across the county. As a direct result of a family tragedy that led to organ donation, the founder of MMMF has personally attended over 100 events in the last 17 years and spoken to over 2,000 people. The football tournament has over 250 attendees every year, totalling over 4,250 over the 17 years. MMMF is a widely known and respected group in Luton and beyond.

Tibbs Dementia Foundation (TDF) (link opens in new window) provide a varied and stimulating programme of activities to people living with dementia. TDF is built on the belief that each person has ultimate value and they place the person living with dementia, and their carer, at the heart of all they do. With over 67 volunteers, TDF have supported almost 200 people with dementia and 180 carers. They have achieved this through delivering activities in the community which have, in turn, developed good relationships with establishments such as local schools, residential care homes and other local charitable organisations.
HM Lord-Lieutenant of Bedfordshire, Helen Nellis said "We are exceptionally fortunate in Bedfordshire to have so many wonderful people giving their time freely and generously for the benefit of others. It is a great joy that these organisations have been awarded such a prestigious honour and I offer them all my sincere congratulations and thanks".

To nominate a group or find out more, please visit the Queen's Award for Voluntary Service (link opens in new window) website.