My personal profile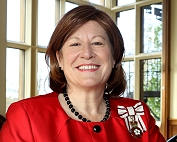 Helen Nellis was appointed by HM The Queen as the Lord-Lieutenant of Bedfordshire and began her term of office on 22nd February 2012.
Helen's career has spanned the law, higher education, health and the commercial sector. A qualified Barrister and academic by background, she has worked as a global senior executive search professional and runs a consultancy business as an executive and top team coach specialising in the improvement of personal and board-level leadership performance in complex organisations.
She has been Chairman of a number of large organisations including, in her own county, Bedfordshire Health Authority, Luton Health Action Zone and Bedford Hospitals NHS Acute Trust, as well as a member of university governing bodies and councils in higher education including Vice-Chairman of the Universities of Luton and Bedfordshire and a Governor at two state sector schools in the County.
Helen is married to Professor Joe Nellis of Cranfield University with three children and enjoys walking, talking, tennis and music. She is attempting to learn golf! Together with her family, she has been involved in supporting development activities in Ghana for 35 years. She is a Trustee, President and Patron of a number of charities.

The Lord-Lieutenant is now on twitter, follow me @LLieutenantBeds