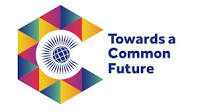 Commonwealth Day is the annual celebration of the Commonwealth of Nations, marked by a multi-faith Service in Westminster Abbey.
The Service is normally attended by HM The Queen - the Head of the Commonwealth, the Commonwealth Secretary-General, and Commonwealth High Commissioners, in London.
Every year HM The Queen delivers a televised address to the 54 Commonwealth member states.
2014 was the first year that all Authorities throughout the country signed up to raise a Flag for Commonwealth Day. The Lord Lieutenant of Bedfordshire, Helen Nellis, will present the flags to the 3 unitary authorities in Bedfordshire.
Towards a Common Future
Prosperity: boosting intra-Commonwealth trade and investment
Security: increasing cooperation across security challenges including global terrorism, organised crime and cyber attacks
Fairness: promoting democracy, fundamental freedoms and good governance across the Commonwealth
Sustainability: building the resilience of small and vulnerable states to deal with the effects of climate change and other global crises
Commonwealth Day 2019 will take place on the 11 March
Commonwealth Theme 2019: 'A Connected Commonwealth (link opens in new window)'

The Lord-Lieutenant is now on twitter, follow me @LLieutenantBeds (link opens in new window)