No Limits disability groups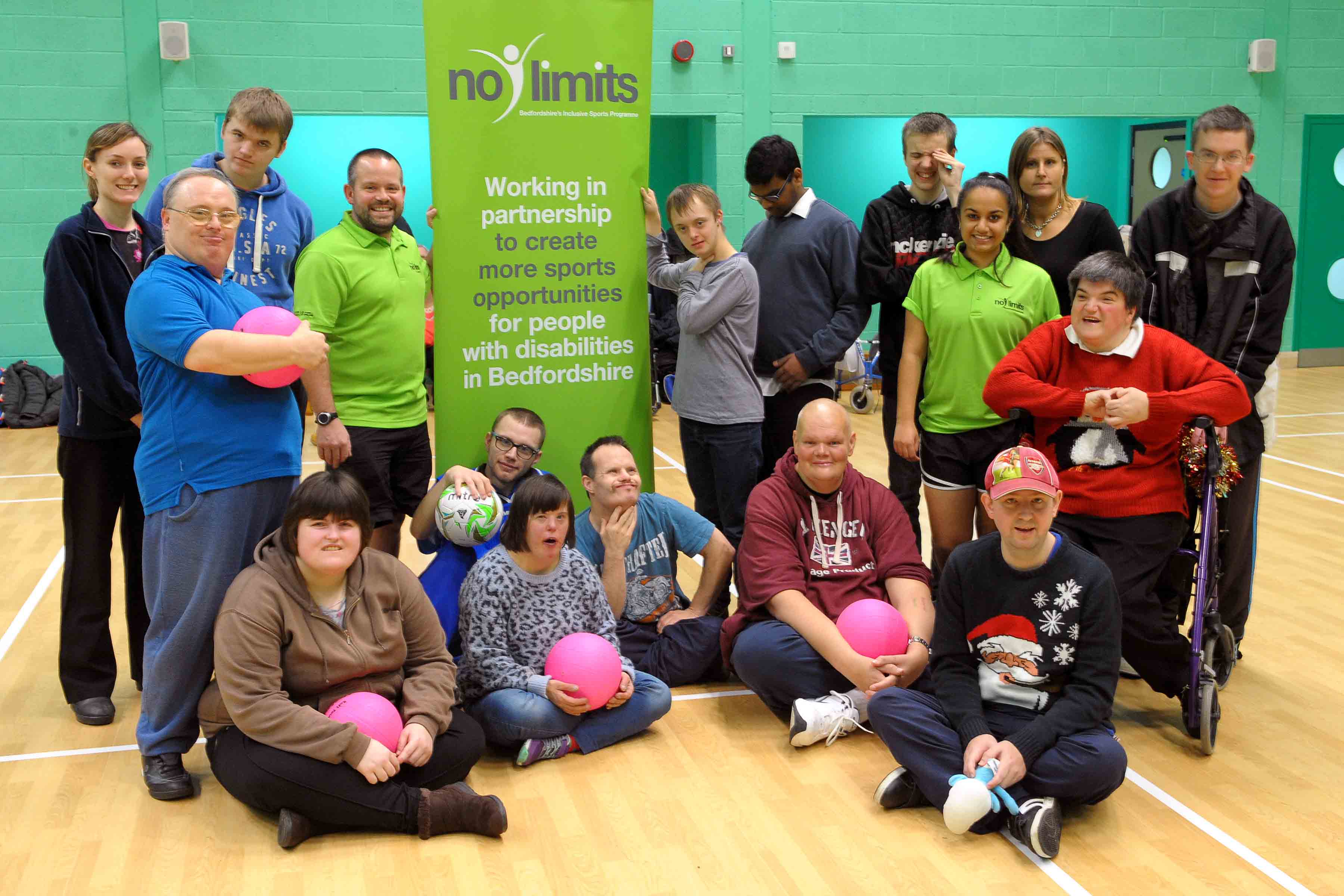 teamBEDSandLUTON (link opens in new window) and "No Limits Inclusive Sport for all" to create more sustainable opportunities for people with disabilities to take part in regular sport, physical activity and exercise in Bedfordshire. Primarily targeting teenagers and adults with learning disabilities, our project aims to develop a network of multi sports clubs to enhance individual opportunity and improve whole family wellbeing.
We work with
All clubs are run on a 'drop in' basis and the activities vary from week to week, using different sports or just general fun games (for example, 'Stuck in the Mud'). The clubs are pan disability, so all are welcome and we encourage people to come along to see if it's for them. We aim to create a very relaxed and fun atmosphere, very much like a youth club, where adults and children can come and see / meet their friends away from schools and their local day centres.
Disability sessions
Biggleswade disability session 10-17 year olds
Silsoe disability session 18+ years
Who is this for? All disabilities over the age of 18
Where? Silsoe Sports and Community Centre, Chestnut Avenue, Silsoe, MK45 4GP
When? Every Tuesday, 10am-12pm (only runs during school term time)
How much? £3.50 a session
Who do I contact? Robin Osborn on 07580 330853, email physical.activity@centralbedfordshire.gov.uk
Flitwick Community Swimming Group 5+ years
Who is this for? All disabilities over the age of 5 years
Where? Flitwick Leisure Centre, Steppingley Road, MK45 1TH
When? Every Saturday, 4-5pm
How much? Adults- £4.40 Non member & £3.10 member (Carer goes for free); Children - £2.20 Non member & £1.55 member (Carer goes for free)
Please note: This session has a Swimming instructor present to offer advice and support. Carers to accompany novice swimmers.
Trampoline club at Sandy 10-17 year olds
Who is this for? All disabilities between 10-17 years old
Where? Sandy Sports Centre, Engayne Avenue, SG19 1BL
When? Thursdays, 6-7pm
How much? £2 a session or £12 for 6-week block booking
Who do I contact? Melanie Brooker on 0300 300 8075, email melanie.brooker@sll.co.uk
Please note: This group runs in six week blocks so please call the above number to find out when these are running.
Adapted bikes for community use
Did you know there are adapted bikes at Marston Vale Forest Centre, available to anyone in the community to use at any time throughout the year? The hire cost is £5 per bike per hour.
Please note: you need to book 24 hours in advance, using the details below.
Address: The Forest Centre, Station Rd, Marston Moretaine, Bedford MK43 0PR
Telephone: 01234 767037
Activity programme
You can also download our activity programme for 2016 - 2017 (PDF 8.4MB)

.
Disabled access to leisure centres and countryside sites
In this section you can find information on accessibility of local leisure and recreation facilities as well as details about targeted sports programmes. To find out more about accessing local venues click on the links below.
If you are a carer and would like information on access arrangements for carers assisting a disabled person at leisure centres, you can download our Leisure Centre Access Policy for Carers (PDF 34.4KB)

.
Disabled access information
Feedback from parents about their children's experiences
Lucas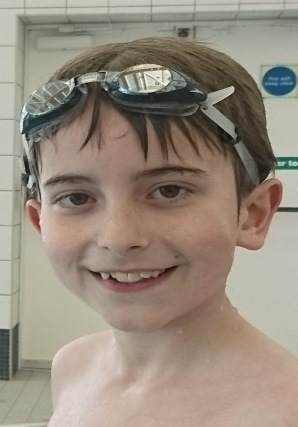 Lucas has been having swimming lessons since he was two years old. His paediatrician recommended swimming as an activity that would help his physical development and not risk damage to his joints. He has had a succession of one-to-one teachers and group sessions over the years, with variable progress made. He makes slow progress generally, but then his confidence gets knocked and he refuses to go, which delays further progress until he finds his confidence again. He has just finished group sessions, which were starting to focus more and more on technique - which he physically struggles with. Being unable to keep up with his peers, he lost all confidence and refused to go again. Starting at No Limits Swimming Club has been a breath of fresh air. Adele is amazing in how she can watch a child in the water and immediately know how to help them progress. She explains things really clearly and modifies based on the child's needs. The lack of pressure to 'perform' and complete tick box exercises has meant that my son now wants to try to improve his technique - because he now understands how he can achieve it in a way that suits him. In recent weeks, Adele has been helping him to learn to jump and dive - something that I never thought I'd see as previous teachers have not been able to teach him safely (he's hurt himself previously by panicking mid jump and twisting, hitting the side of the pool). He doesn't trust people easily due to years of medical interventions, but he trusts Adele. I am so impressed with the No Limits swimming club. I'm extremely happy that we found it, we just wish it had been around years ago!
Logan - aged 7
Logan is 7 and has Aspergers and Dyspraxia. Over the last few years we have tried many clubs outside of school for him, each of them led to him feeling unhappy as he struggled to join in or follow the pace or style of instructions being given to the group, always ending in the words "Mummy, I don't want to go...".
Until we were introduced to No Limits, where from our first session Logan and I where made to feel welcome and at ease. I watched as Logan joined in with the action helping him to get more mobile, learn about team working and having fun!! Logan ran up to me, said with a smile "Mummy I'm having fun" and ran back to the group.
An overwhelming moment for me and Logan continues to look forward to the group every week. Thank you Central Beds and the No Limits team, you really have made a difference for us!
Anna
Thank you for offering my daughter Anna the opportunity to play sports with other local children with additional needs.
Anna has downs syndrome and autism and attends a mainstream school. This group provides a fun, accessible and safe experience for her to play with peers with similar needs.
She loves it; I enjoy watching her play on a level playing field; and I also get the chance to chat to other parents having similar experiences and challenges.
We have both made new friends and are grateful for the very warm welcome you and your volunteers have given us.
Lara - aged 15
I wanted to thank you and most of all Kelly for encouraging Lara at her first trampoline session at Sandy on Thursday.
She did not want to go and once she was there, she was so anxious, so nearly left, but thanks to Kelly who has such a lovely kind patience nature, she stayed and loved it. So much so, she is counting the days down to Thursday for her second session. She also made a friend there too. Lara said she loved it and felt so comfortable there. It means so much to me and her dad, thank you.
Lara was asked by her new friend at trampoline to go to Friday night's sports session with no limits at Saxon Centre and has attended for the last 2 weeks and loves it. She cannot believe how nice everyone is to her and she's made more friends. Your coaches there are also so friendly and skilled with our kids and again we love seeing Lara so comfortable and happy.
She will join the swim group next week most definitely as she thinks she's a mermaid, lol.
Christian
Christian has Autism Spectrum Disorder and a Micro Duplication of Chromosome 16p11.2.
Christian has a lot of sensory issues, which can make him feel anxious and has always been full of energy and on the go. He has a delay in fine motor skills and has a lack of understanding social cues so it wouldn't be possible for him to join a sports club on the mainstream.
No limits sports makes him feel happy. It means a lot to see Christian go into a new situation and not to have anxiety and doesn't feel judged by his behaviour. It just gives him the confidence, motivation and self belief. Also it's amazing how all the kids are caring towards one another, praise and clap for each other. It makes me feel happy to see the confidence and excitement in Christian.